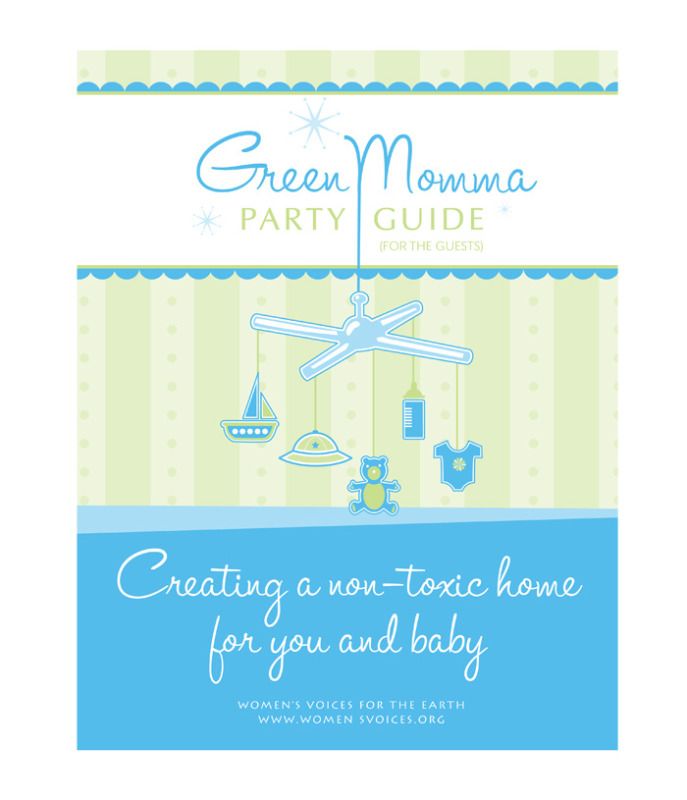 For several months I've been eagerly awaiting the launch of Women's Voices for the Earth's new Green Momma Parties! They're a spin-off of WVE's Green Cleaning Parties, which gave people all the tools they needed to make their own cleaners and reduce the amount of chemicals in their homes. The Green Momma Parties are designed for baby showers, parents' groups or get-togethers with friends. They're all about educating parents about reducing toxic chemicals in the home, while empowering them to become advocates for safer products at the same time.
This winter I found out that I'm expecting again. For those who didn't know yet, surpriiiiise!! I'm due at the end of September and it's a boy again, and yes, I'm completely unprepared for the chaos of having 2 kids. I'm the type of person who can anticipate how much chaos there will be, and instead of furiously trying to figure things out for myself, I look for tools to make things easier. That, and I procrastinate. The Green Momma Party Guide is one of those tools, because it gives you totally manageable, affordable solutions that anyone can do, no matter where you live or how much money you have. Awesome.
One piece of advice in the guide that I thought was super valuable is this: "wash your baby simply with castile soap and water." With my first baby, we used the Johnson & Johnson soap that the hospital sent us home with, and bathed him about every other day. He ended up with horrible eczema and cradle cap, and still has flair ups now and then. Now, we make sure we only use castile soap and water with him, and limit baths to twice a week. For anyone whose children are having skin troubles, try this first before trying out other skin care solutions. We found that it really cleared things up.
These tidbits of advice are best learned from other moms, and WVE recognizes that new moms learn best from other moms. That's why I think the Green Momma Parties are so genius—they provide accurate, scientific information and recipes tested by experts, but encourage a format that allows women to empower and support each other.
It is estimated that between 80,000 and 85,000 chemicals are in use in the environment in United States, yet only about 200 of these chemicals have been tested for safety. Women's Voices for the Earth believes that all products, especially those for vulnerable populations like babies, should be safe and non-toxic.
To sign up to host a party, go to
www.womensvoices.org
. And while you're there, sign up to become a member and consider donating to this fabulous organization!
**Disclosure, I am a paid communications consultant for Women's Voices for the Earth, and they are one of my favorite clients